Cannabis Museum Amsterdam
Welcome to Cannabis Museum Amsterdam, your premier destination for an immersive and educational journey into the world of cannabis. Located in the vibrant heart of Amsterdam, we take pride in offering an adventurous and interactive experience like no other.
Explore the fascinating history of cannabis, from its diverse uses as an industrial product and superfood to its role as a valuable medicine. Delve into the captivating story of how humanity has domesticated, cultivated, and spread this remarkable plant from its origins on the Central Asian steppes to the iconic coffeeshops of Amsterdam and beyond. Join us for a hands-on exploration, where you'll discover the rich history, unravel the scientific wonders, and dispel the misconceptions surrounding this extraordinary plant.
Interactive Exhibitions
Join our knowledgeable staff on an intimate tour through three floors of captivating interactive exhibitions. Immerse yourself in our indoor ecosystem featuring live plants, a microscope, and a state-of-the-art cannabis testing machine.
Discover the fascinating world of cannabis and gain a profound understanding of its numerous benefits. Visit the Cannabis Museum Amsterdam for an engaging and educational journey like no other.
Planning Your Visit
Whether you're a first-time visitor or a seasoned Amsterdam traveler, proper pre-planning ensures you make the most of your trip. To fully enjoy our museum, allocate ample time for your visit. On average, visitors spend approximately 45 minutes exploring the exhibits. Although we close at 10 pm, we recommend arriving no later than 9 pm to ensure sufficient time for an immersive experience.
Buy Your Tickets Online
Conveniently purchase tickets for our museum either through our online webshop or directly at the museum entrance. Single-person admission starts at an affordable price of 10 euros, allowing individuals to embark on an enriching journey. For groups of up to 5 people, a cost-effective group ticket option is available for 40 euros.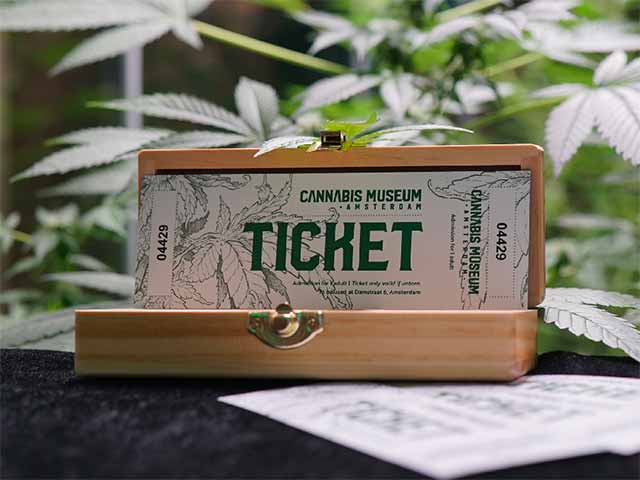 Single Entrance Ticket
Discounted Single Price Admission Ticket. (€12 instore)

Free Goodie Bag

10% discount on products in the museum shop
Group Entrance Ticket
5 X Discounted Single Price Admission Ticket. (€60 instore)

5 X Free Goodie Bags

10% discount on products in the museum shop
Opening hours
Monday 09:00 to 22:00
Tuesday 09:00 to 22:00
Wednesday 09:00 to 22:00
Thursday 09:00 to 22:00
Friday 09:00 to 22:00
Saturday 09:00 to 22:00
Sunday 09:00 to 22:00
Location
Cannabis Museum Amsterdam
Damstraat 6
1012JM Amsterdam
The Netherlands
Tel: 020 624 5628