Plan Your Visit To The Cannabis Museum Amsterdam
Situated at number 6 Damstraat, our museum is in close proximity to Dam Square, making it easily accessible for visitors. Prepare for a hassle-free journey and make the most of your visit by planning your transportation ahead of time.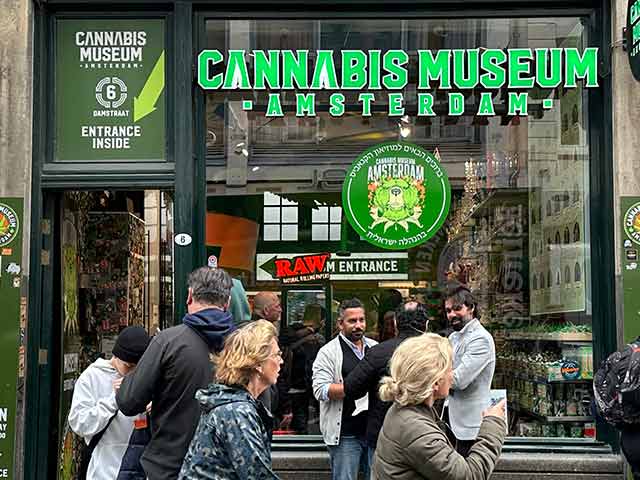 Opening hours
Our museum operates from 9:00 am to 10:00 pm, offering ample time for exploration. On average, visitors spend approximately 45 minutes immersing themselves in the exhibits. To fully enjoy the museum experience, we recommend allowing sufficient time to view all the captivating displays before our closing time.
Please note that the last admission is at 9:30 pm, ensuring you have ample opportunity to embark on your museum adventure. Make the most of your visit by planning accordingly and savoring the entirety of our museum's offerings.
Traveling to the museum
Traveling to our museum is incredibly convenient, thanks to the extensive public transport network available. However, it's highly recommended to plan your visit in advance to ensure a smooth experience.
The nearest tram and bus stop to the museum is conveniently located at Dam Square, providing easy access. If you're arriving by train, Amsterdam Centraal Station is just a short 10-minute walk away.
Watch the video below for walking directions to the museum from Amsterdam Centraal Station.
Location
Cannabis Museum Amsterdam
Damstraat 6
1012JM Amsterdam
The Netherlands
Tel: 020 624 5628
Opening hours
Monday 09:00 to 22:00
Tuesday 09:00 to 22:00
Wednesday 09:00 to 22:00
Thursday 09:00 to 22:00
Friday 09:00 to 22:00
Saturday 09:00 to 22:00
Sunday 09:00 to 22:00
About Amsterdam
Discover the vibrant evolution of Amsterdam, from a humble 13th-century fishing village to a bustling metropolis renowned for business, tourism, and cultural delights. Immerse yourself in the untouched beauty of the historic centre, explore world-class museums and galleries, indulge in the unique coffee shop culture, and experience the allure of the iconic Red Light District, all interconnected by a mesmerising network of canals. Amsterdam awaits, offering an unforgettable journey through diverse cultures and captivating experiences.
Conduct In The Museum
At our museum, we kindly request all visitors to display respect and courtesy towards fellow guests, visitors, and staff members throughout their visit. Please note that the use of abusive, discriminatory, or offensive language is strictly prohibited. Additionally, we maintain a no-smoking policy within the museum premises. However, we happily welcome small dogs, allowing one dog per person. Join us in creating a pleasant and inclusive environment for everyone as you explore our museum.
Cannabis In The Netherlands
In the Netherlands, the use of cannabis is tolerated, and there are various areas where it can be smoked. However, it's important to note that not all venues permit cannabis use, so it is advisable to verify beforehand. To enter a coffeeshop, you must be at least 18 years old. Personal use allows for the purchase of up to 5 grams. It is crucial to always avoid smoking near schools or in the presence of children. Stay informed and responsible when engaging in cannabis activities to ensure a safe and enjoyable experience.
Buy Your Tickets Online
Conveniently purchase tickets for our museum either through our online webshop or directly at the museum entrance. Single-person admission starts at an affordable price of 10 euros, allowing individuals to embark on an enriching journey. For groups of up to 5 people, a cost-effective group ticket option is available for 40 euros. 
Single Entrance Ticket
Discounted Single Price Admission Ticket. (€12 instore)

Free Goodie Bag

10% discount on products in the museum shop
Group Entrance Ticket
5 X Discounted Single Price Admission Ticket. (€60 instore)

5 X Free Goodie Bags

10% discount on products in the museum shop (per customer)
School / Private group tours
If you're planning a visit with a larger group, we offer private tours tailored to your needs. To learn more about private tour arrangements, kindly utilise the contact inquiry form below. Secure your tickets today and prepare for an unforgettable experience at our museum.